FlexFace Lightboxes - Tensioned Fabric Display Units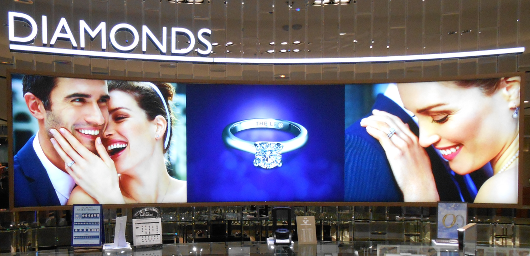 Created from aluminium extrusion frames, we can create a poster display featuring LED or T8 lamps. The LED's can be either white, RGB or individually coloured, with T8's available in white only (860-865 colour, 6500k as the norm).
Single or double sided back or edge illuminated (LEDs only). Depths between 15mm to over 200mm.
Single or double sided?
A light box to show your products at their best
A concave curved unit, LED back illuminated – 4424 x 1100 x 90mm overall on a 5M radius. The poster is retained by inserting the sewn on silicone edge strip in to the U slot on the edge of the extrusion frame.
LED Edge illuminated light sheets are used where depth is critical – normally 15 to 22mm deep.
LED Back illumination is used for the deeper units, 70mm deep & upwards. We use LED flexible strips, 3 LED modules or LED projection lamps; whichever is the most technically & most cost efficient.
T8 lamps are only used for back illumination of the deeper boxes & where overall cost is important.
Our BriteLite Displays compliment your existing systems, allowing you to highlight that important message. Our units also offer easy, speedy updates of images so that your messages can be changed within minutes.